NSI Solutions Has moved
8/11/16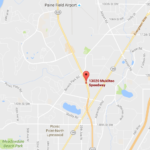 NSI Solutions has moved. Due to the support of our amazing customers we have out grown our old building. We relocated from Everett to Mukilteo. Our new building is much bigger and fits the needs of our growing business. We are very excited for the next couple years in this location and hope to expand even more. 
Sink Bulls Have Shipped
7/21/16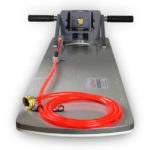 Sink Bull and Rapid-Z's have shipped! We are Proud to announce that as of July 8th Sink Bulls and Rapid-Z's are available through any of or stocking distributors. We are very excited about these two products. The Sink Bull paired with the Rapid-Z Cut is a machine designed to repeatably grind perfect under-mount sink cutouts. We are hoping that fabricators will find this system as useful as we have.
New Product Debut
5/2/16
We debuted two new tools at Coverings this year.  The Sink BULL is a machine specifically designed to grind perfect, repeatable cutouts, for undermount sinks, in stone or quartz slabs. Pair this with out new Rapid Z-CUT bit for an awesome sink hole fabrication solution. This is exactly what we use in our shop because it allows us to quickly create perfect sink cutouts with a low skill level fabricator. These awesome small shop fabrication tools will be for sale starting in July.  Their web pages are currently under construction but check back here for more information soon.

Coverings' 2016
4/18/16 - 4/21/16
Another Coverings in the Windy City is complete.  NSI Solutions would like to thank GranQuartz for giving us the opportunity to display our tools. We would also like to thank all the attendees who stopped by the booth to discuss our small shop fabrication solutions.  We debuted the Sink BULL sink router and Rapid Z-CUT 3" stack blade z wheel. Keep and eye out for more information on these new tools coming soon.


The International Surface Event
1/20/16 - 1/22/16
Yes - we survived another show in Las Vegas.  NSI Solutions would like to thank all of our customers who came by the Regent Stone Products booth to see our demos, discuss our tools and just say hello. Customers who meet us know we are all about making quality tools to produce quality stone work.  It's always good to hear the stories from customer who use our products successfully and to help new customers solve their fabrication problems.  We are looking forward to seeing everyone at Coverings, April 18-21, in Chicago
Seam Phantom Price Reduction
January 1st 2016
We have been working hard to reduce our prices and are passing the savings on to our customers.  For 2016 we have reduced the price of Seam Phantom packages through our stocking distributors.  Locate a Distributor for specific Pricing. (click here to go to our distributors page)
Modify Your Seam Phantom
11/4/15
Starting October 2015 all new Seam Phantoms® will be modified to fit the recently introduced Makita SJS II angle grinders. The new Seam Phantoms® will continue to fit the original grinders as long as they are available. However, if you have an old Seam Phantom and need to fit it to the new Makita GA5042C Grinder here are some instructions on how to do it. Click the icon to view.
Welcome To our New Website
10/27/15
NSI Solutions is proud to announce the launching of our brand new website. Please take a look around and if you have any questions feel free to contact our office.
Twist Shims Have Shipped
 06/07/15

The first batch of our award winning Twist Shims™ were shipped out to distributors on May 6th, 2015. We are excited to make these available to fabricators and installers across the country. Contact one of our distributors to test drive this exciting new product.
Most Innovative
02/04/15

Twist Shims™ won the Best of Innovation 2015 award at The International Surface Event (TISE) in Las Vegas, Nevada last January. In the words of one of our long time customers – "Twist Shims™ are a truly revolutionary simple design to make counter installations and repairs faster and more cost effective". We have been working on this product for approximately a year and are excited to introduce it to distributors and customers around the world.